Costa Rica Trip, February 2023
Costa Rica is an amazing country, highly focused on wildlife and preservation, that draws in many tourists every year. This year, we wanted to be among those tourists, and maybe even evaluate whether we might want to retire there.
I started doing more research before I made specific plans, and I'll share some of those resources below. Then my husband and I discussed it with our kids. The oldest, who lives half a state away and works full-time, didn't feel like he could come with us. But our daughters were excited about the idea!
Because this was a family vacation and it was new to us, we decided to pick one location and stay in the nearby areas. We chose Manuel Antonio, a touristy town with lots of things to do, on the central Pacific coast. (Costa Rica is in Central America, between Panama and Nicaragua, and has coasts on both sides, so they're commonly referred to as the Pacific coast and the Caribbean coast.)
Ideally we'd have visited more locations, including the cloud forest, so we do plan to go back and see more later! As a birder, it was hard to skip Monteverde and other places where you can see the Resplendent Quetzal, but we saw so much amazing wildlife that I wasn't disappointed at all.
Here's how our trip went, including location, transportation, and activities.
Day 1 – Orlando to San Jose to Manuel Antonio
The first day, Friday, was a flight from Orlando to San Jose, the capital of Costa Rica, with a layover in Miami. Everything was scheduled perfectly. But my husband happened to get up at 3:30am and checked his phone, and found an automated text from American Airlines saying our first leg was delayed by an hour.
That was a huge problem because our layover in Miami was only a bit longer than an hour. We were down to a 10-15 minute layover in a really busy airport! And the next flight from Miami to SJO wasn't until Monday. So I woke up and got on the phone with American Airlines, and they got us on a flight out of Orlando that left an hour earlier.
We all had to scramble out the door, and with two teenage daughters, that's not the easiest thing in the world. But we made it to MCO (Orlando) with a bit of time to spare and even grabbed a quick breakfast before boarding. The departures board had only one single flight delayed – our originally flight. Just our luck! But God and American Airlines pulled it out for us and we made it.
The flights were easy, and coming into SJO (San Jose, Costa Rica) gave us our first taste of the country. San Jose is between mountain ranges, and you can see them in the not-too-far distance. I was so excited by this point! The adrenaline of the flight changes had me amped up, and now we were in (well, over) the country, and I was stoked!
We landed, cleared customs, got our bags, and met our shuttle driver, Edgar, just outside the exit. Edgar is with Argal Costa Rica Shuttle and his picking us up had been arranged by Arturo from Jaco Car Rental. We just loved them and a private transfer was the perfect choice. The drive from San Jose to Manuel Antonio is about 3 hours, and we were tired by the time we got to our hotel. It would have been worse if we'd had to drive and navigate as well! Plus, Edgar was really nice and he told us so much about the country.
Along the way, we stopped at the Crocodile Bridge. Having a driver meant that there was someone to watch our belongings, as this is a common place for tourists to fall victim to petty theft. He parked just before the bridge and we walked onto it and looked down at the crocodiles in the river. I also saw my first Costa Rican bird – yay! – but it was a Great-tailed Grackle which I'd already seen on my two birding trips to Texas, so it was a bit of a letdown.
We continued on for a while, but the girls got hungry and one was bordering on hangry, so we asked if we could stop for food. Yes, our first meal in Costa Rica was… Subway. But, it gave the kids some familiarity and was easy to eat in the car, so it actually worked very well.
When we got to Jaco, which is north of Manuel Antonio, it was still light. So we stopped and got a family photo at the JACO sign, and took a few pictures of the town from the road. Then it was back in the van for another hour or so of travel. By the time we reached our hotel at Manuel Antonio, it was well past sunset and there wasn't much we could see.
We'd opted to stay at Mango Moon Villas, as it had been recommended in the Facebook groups I had joined while planning our trip. We didn't know it yet, but it turned out to be the perfect lodgings for us. By this point we were beat, so we ate dinner at the hotel restaurant, which serves Korean food. We also met Mauricio from Jaco Car Rental, who dropped off our 4×4 rental SUV.
Day 2 – Manuel Antonio National Park
On the second day, we got up and were treated to our first sight of the view from our room. It did not disappoint!
And here is a view of the entrance into Mango Moon: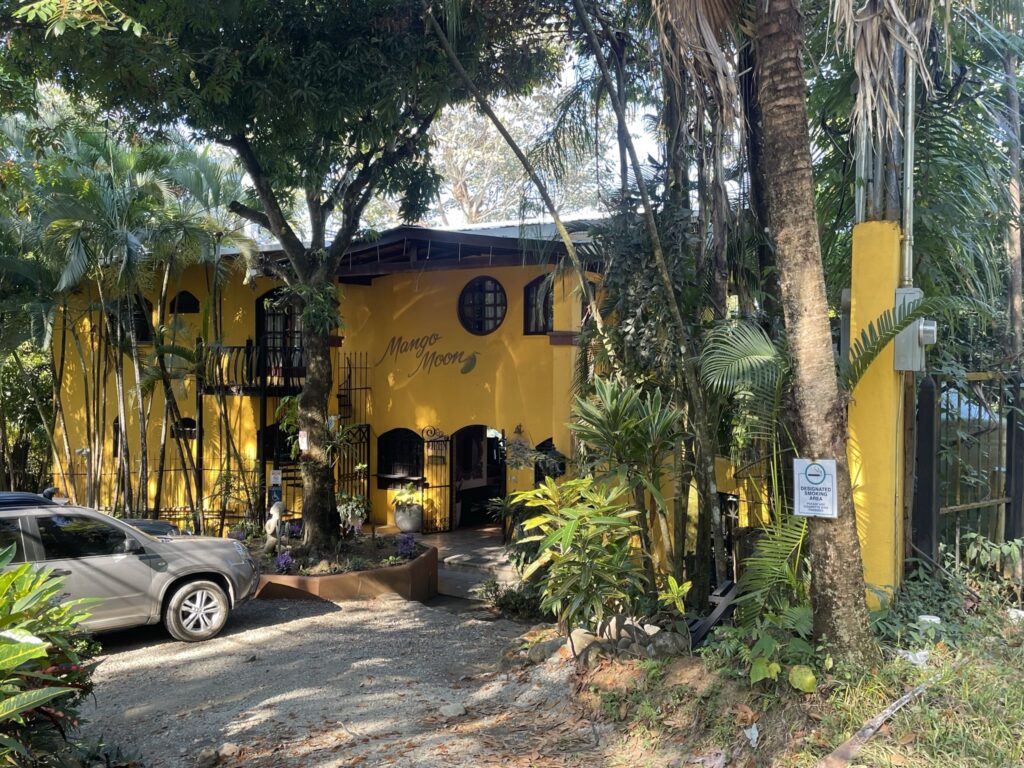 On our first full day in country, we had planned a trip for all four of us to Parque Nacional Manuel Antonio – the national park. We'd arranged for a nature and birding guide to show us around here, and on the next day's birding trip as well. But we decided to meet him late morning so we could relax and get there hopefully when the lines weren't super long.
Emilio's Cafe
But first, el desayuno – Spanish for breakfast. We were hungry! We headed up the hill from Mango Moon in our SUV and parked in the shopping center at the top of the hill, to have breakfast at Emilio's.
The first thing you see when you walk into Emilio's is a big mural which appears to be Audrey Hepburn as Holly Golightly from Breakfast at Tiffany's, being mauled in the face by a cat.
The second thing you notice is the view across Playa Espadilla…it was just stunning! The dining area is open air, so the view was unrestricted by walls and windows.
We were quickly seated at a table, where we ordered coffee and drinks. Our 18-year-old could drink legally for the first time, so she ordered a mojito for breakfast. It was SO good. Pete got mimosas, our youngest got juice, and I preceeded to start my love affair with Costa Rican coffee. Then we ordered breakfast: two fruit plates, one omelet, and one salad. (Salad for breakfast…someone explain teenagers to me, please!)
Everything we had there was delicious, and we enjoyed it while looking out over the beautiful water.
Quepos
We had a bit of time to kill, so we drove down to the Quepos waterfront. Quepos is the non-touristy town just north of Manuel Antonio. We had hoped to go to the market that was supposed to be open on Saturday mornings, but no one was there. We ended up parking and walking along the waterfront area. I snagged photos of a few birds, but nothing that I hadn't seen before in either Florida or Texas.
Quepos has another of the lettered signs, so we snapped photos there, and also with the informational tsunami sign just for kicks.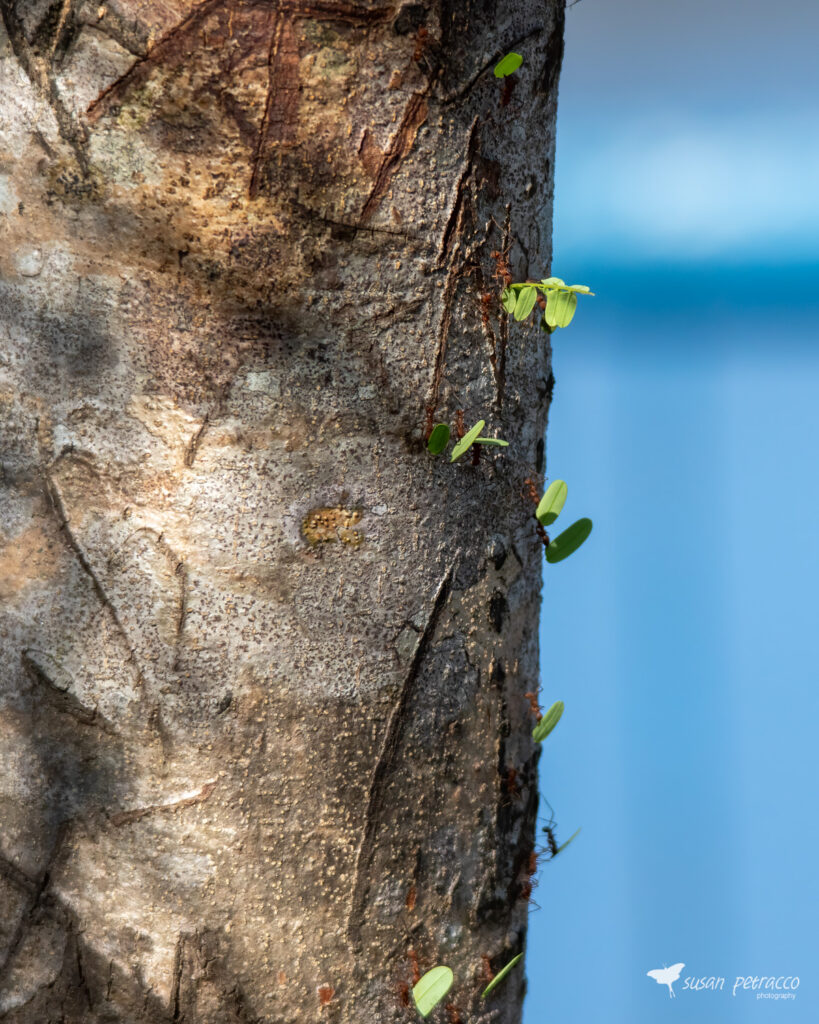 We also saw leafcutter ants!
Parque Nacional Manuel Antonio
From there, we went back to the hotel to drop off the car, change into swimsuits, and to grab towels and a few other items for the beach. At 11am, a taxi driver (arranged by our guide) picked us up at the hotel and drove us to the park, where we met our guide at the entrance.
Berny Sanchez came highly recommended in the two Facebook groups I was in, with good reason. He was so nice, quick to stop wildlife, and great at identifying them! Once in the park, our oldest decided to head on to the beach (the one in the park) while we stayed with Berny to look for sloths and birds.
I had prepared myself for huge crowds, which in my imagination looked like Disney World at noon on spring break, trying to make your way through crowds, standing in lines, and not being able to see much.
I was so wrong!
Yes, there were a lot of people, but only at times, and even then it wasn't a close press of bodies. When there was an animal or bird to see, there were usually 3-4 guides on it, each with a spotting scope and 5-8 tourists hoping to take a look. But there was plenty of time, especially for the slow-moving sloths, a sleeping bat, and the nesting hummingbirds that sat still.
We saw both sloths – one is diurnal and one nocturnal – as well as a white-nosed coati (a relative of the raccoon). Unfortunately we didn't find any of the 4 monkey species that live in Costa Rica while we were with Berny. But we did see a lot of birds, so I was happy! And, as usual with this hobby, we heard others that we couldn't spot, but Berny knew which species they were by sound.
When we got to the concession stand, the line was crazy. We didn't feel like standing in line for food. Fortunately, it turned out that Berny has a credit relationship with them, and he was able to skip the line. He got us some cokes and some cups of the freshest, sweetest fruit I'd ever tasted!
Our youngest decided to head on to the beach, while we did another side trail to look for a few more birds. Then we walked with Berny to the beach, where we made our plans for the next day, and said goodbye. We met up with our daughters at the beach itself.
It turned out that after splitting from us, our oldest saw capuchin monkeys, as well as a baby three-toed sloth being carried by its mom… both at eye level! I have to admit it made me a little jealous!
After enjoying the beach for about an hour, we took the boardwalk back to the entrance. We checked out the other beach briefly, and stopped to watch a few Golden-naped Woodpeckers.
Donde Alex
Once outside the park, we decided we were way too hungry to go straight back to the hotel. Berny had told us to just message him whenever we were done, and he would arrange for the taxi to pick us up and take us back to Mango Moon.
So we did something entirely unplanned and sat down at the first restaurant we found. It was pretty good but not the best we had, and a bit pricier than our other meals. It's clearly intended to grab tourists, as it was so close to the park entrance. But the food was good and we were so hungry that we were glad to eat there!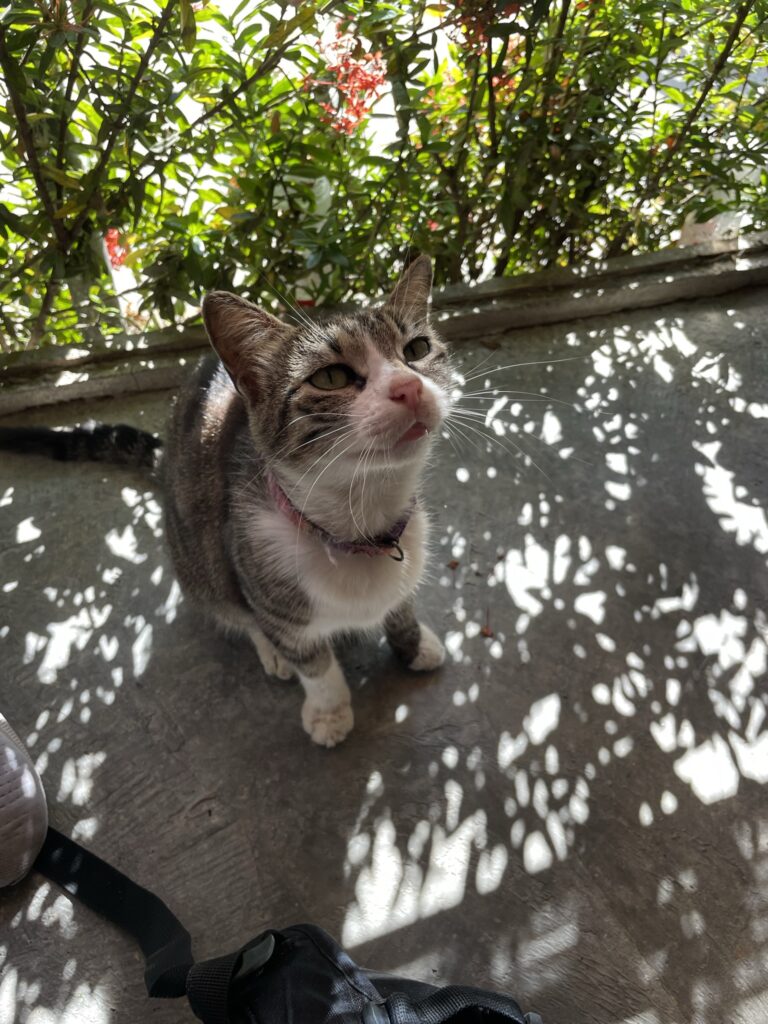 Also there was a cat hanging around the table napping. The girls loved that and played with the cat the whole time. I think they may have enjoyed the kitty more than the park itself!
Mango Moon
I want to share a bit about the place we stayed. I chatted with the owner's son, who often worked the front desk. He shared a story that Mango Moon used to be owned by one of the musicians from the band Creed. The guy and his wife split, and she ended up owning the resort.
Well, she sounds like a hoot. If you look at old reviews of the property, you'll read some people's encounters with her, and they are not good! But eventually the current owners bought the property and have been working to improve it, and its reputation.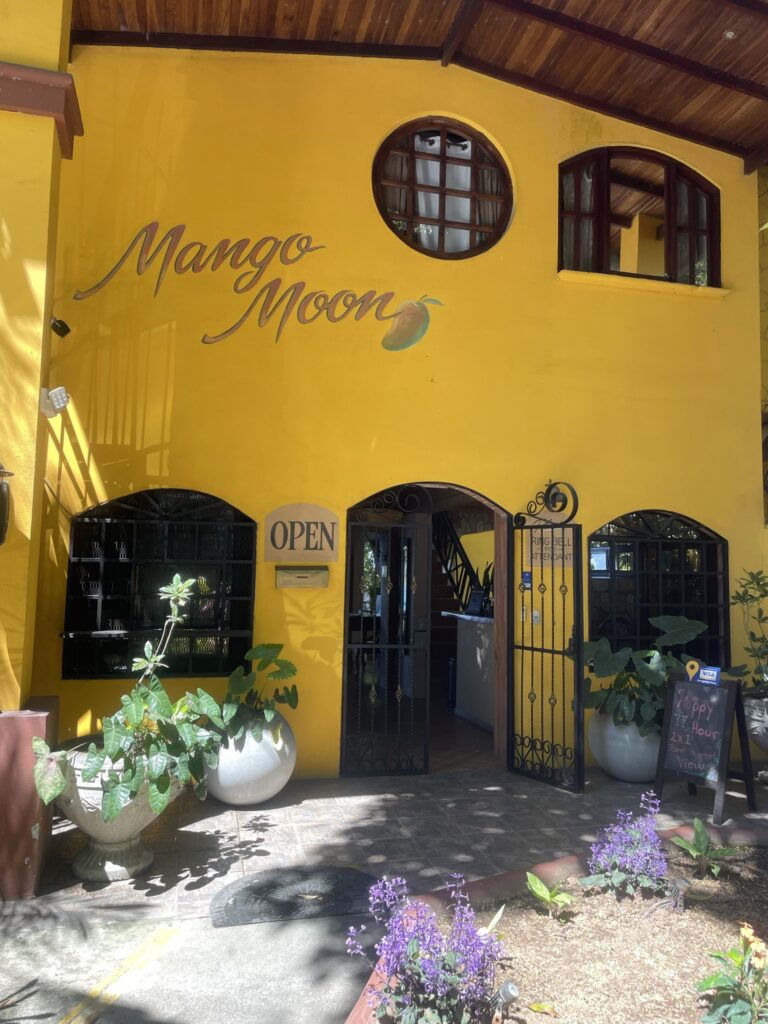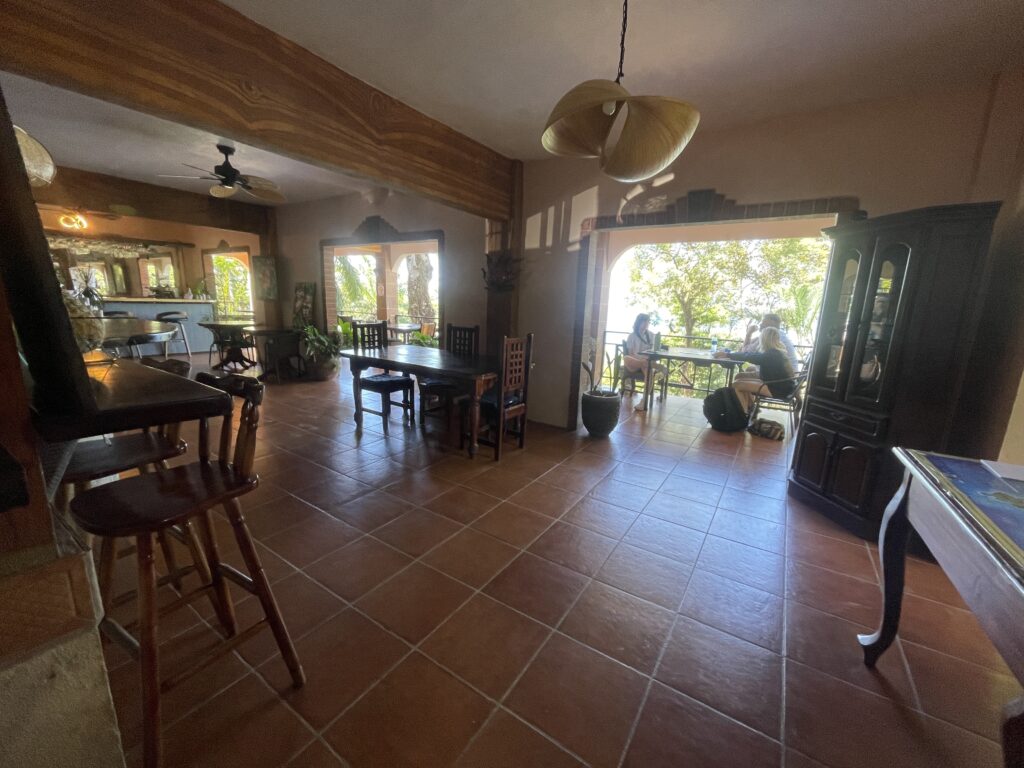 We could also see a lot of wildlife right from our balcony, the restaurant area, or the pool and deck. (In addition to the pictures below, scroll down further for a toucan.)
Samui Thai
For dinner that night, we walked up the hill from Mango Moon to the corner where a recommended Thai restaurant was. Our food was good – again, not the best Thai food I've ever had, but definitely more than acceptable. We all enjoyed our dishes.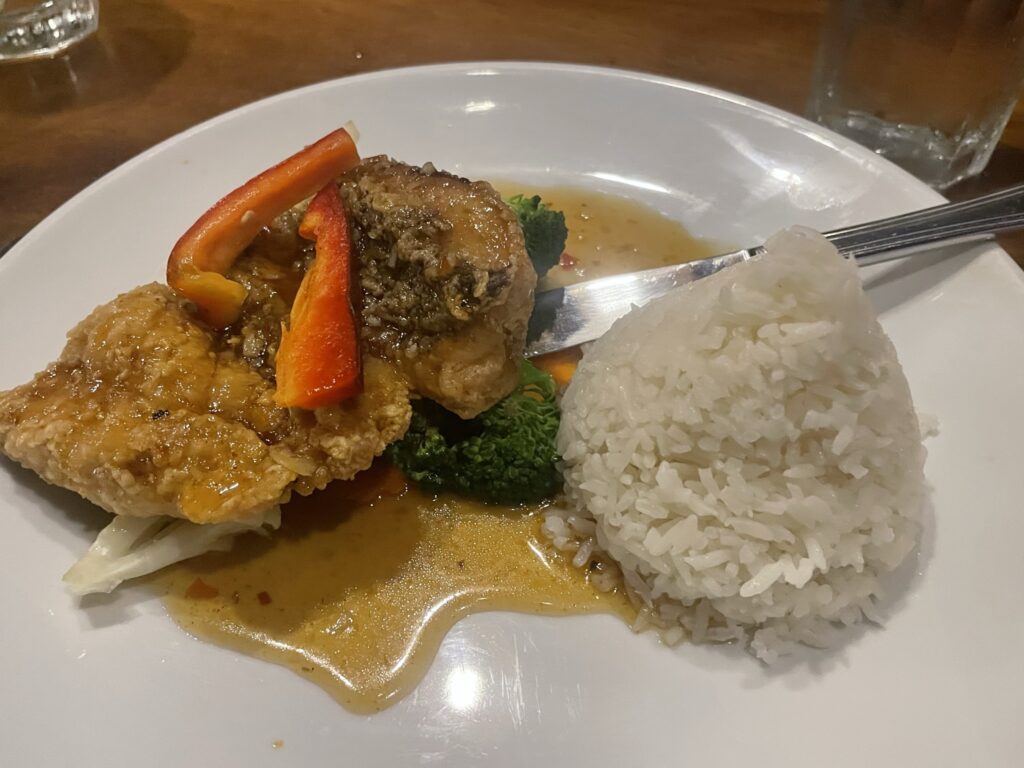 Unfortunately, our older daughter was up sick all night, so I suspect she developed food poisoning based on our meal there. Of course, it could have been food from Donde Alex, or from a previous day. There's no way to know.
Day 3 – Birding in Esquipulas + Nauyaca Waterfall
On Sunday, we had arranged to have our guide, Berny, pick up Pete and myself at our hotel before dawn. The girls wanted to sleep in and enjoy the resort, so it was just the two of us with Berny.
Esquipulas
While it was still dark, we headed out of Manuel Antonio, through Quepos, and then up into the foothills to the northeast, toward an area called Esquipulas.
Along the way, we passed communities, stores, schools, and more. We had hoped to get southern lapwings at a community football field, but they weren't there. As we continued to drive, we got out of town and rarely saw other people on the road. We stopped at several places to look for birds. At first, we heard more birds than we saw, but then we spotted the first humminbird of the day. Not long after, Berny sighted a Fiery-Billed Acari, one of my target species, which is closely related to the toucans. From there, the birds just kept coming! Parrots, trogons, hawks, flycatchers, you name it.
We stopped at the coolest place for coffee. It's called Esquipulas Rainforest. The owners didn't speak English, so Berny had to translate, but they were really nice. While they chatted, we drank our coffee at an outdoor pavilion, and watched the hummingbirds around their flowers, and other birds at their feeders.
There were so many different birds to see here – tanagers, woodpeckers, a different trogon species, euphonia, etc. (If you're interested in more details about the birds, check out the report on my birding website.) Point is, we enjoyed amazing coffee on a gorgeous spring morning with lots of birds around!
Then Berny took us further up the mountain to look for raptors. We saw a number of them – kites, hawks, and vultures. We didn't get the King Vulture that I had hoped for, but we still got good looks at a number of other species, as well as more hummingbirds.
Once we finished, it was back to Esquipulas Rainforest to watch the feeders some more, and also have a delicious Costa Rican breakfast of eggs, gallo pinto, queso fresco, and fresh fruit. And of course, more incredible coffee.
On our way back to town, we took a side road where Berny knew that a Common Potoo was nesting – that was incredible! We had hoped to see nesting Scarlet Macaws, too, but they weren't at the nest. (We did see macaws later, at Mango Moon.)
We ate lunch at our resort, in the room – a combination of things we had purchased and leftovers. Then it was time to trek to a waterfall!
Nauyaca Waterfall
Since we had rented a car, our next planned activity was to drive to the Nauyaca Waterfall, about an hour away. Jake at Mango Moon suggested we go past the first company that offers expeditions, because their route requires a lot of extra walking. So we pulled up the website for the company he recommended, and clicked the Google Maps button on their homepage, and set out in our SUV.
Google Maps gave us great directions with no problems. We didn't really need the 4-wheel drive at all on this trip. We arrived at the outfitters, bought our tickets, and hopped on a tractor for a drive from the tour office down to the beginning of the trails to the waterfall.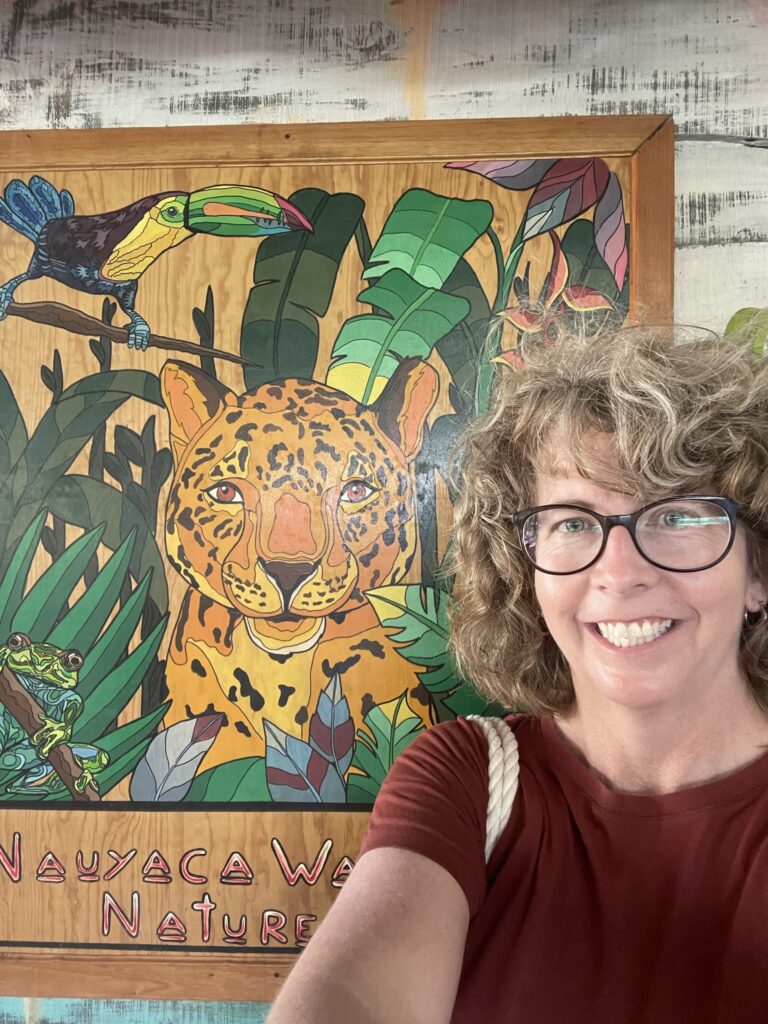 The tractor ride itself was a lot of fun! It pulled a wagon behind it that held about 20 people. It was open air, so we were able to see the countryside and mountains, and feel the fresh air. The ride was bumpy but too bouncy for comfort. It dropped us off at an area with restrooms, and a covered pavilion with hammocks and swings.
One thing we didn't notice was the container that held hiking sticks! Those would have been helpful. Although this company required less walking than the other one, we still had quite a hike DOWN the mountain to the waterfall. About halfway down the trail, you can turn left to go to the upper falls, or turn right to go to the lower falls. We chose to go right, so we continued on…knowing the whole time that we would have to hike back up!
When we got to the bottom, we were greeted with such a beautiful sight. The waterfalls are stunning, and we were happy to note that we could see the upper and lower falls from the very bottom. It was a bit difficult to walk/climb over the rocks to get to the pool at the bottom of the falls, and Pete decided not try it. But the girls and I made it, and enjoyed swimming in the water. It was cold and refreshing after that hike!
Some crazy person was even doing backflips off the side of the waterfall into the pool.
After the waterfall, we drove back to Mango Moon and then crashed for awhile, before going to dinner.
El Wagon
For dinner we wanted pizza! Lots of people in my Costa Rica Facebook groups raved about the food at El Wagon, so that's where we headed. For this, we drove, because it was further than we wanted to walk. Fortunately there was parking right on the street.
We loved the atmosphere of El Wagon, and the drinks were spot on. I had a frozen mango-coconut drink that was delicious. And the thin-crust pizza was really good!
El Wagon and its sister restaurant El Avion seem to have an employee helping people park – and pull out of their parking places without getting hit, since it's a fairly busy road. When we left, he pointed out a sloth in the trees above us, so we got another chance to see one of those amazing animals, too.
Day 4 – Surfing!
For Day 4, we had planned a surfing lesson for our daughters. The idea was that Pete was going to rent a boogie board while they surfed, and I would enjoy the sun and snap a few photos. Well, that's not how it played out. Our older daughter decided that morning that she didn't want to participate in her surfing lesson, so guess who learned to surf? Yep, me!
Manuel Antonio Surf School
Manuel Antonio Surf School, or MASS for short, picked us up in a shuttle at our hotel. There were already 4-5 other people in the shuttle, but it wasn't crowded and we enjoyed the short van ride to Manuel Antonio Beach.
When we unloaded, we immediately saw yet another sloth in the trees! Seeing them everywhere was so cool. Then we meandered further on to the section where MASS had set up. It turned out everyone in the van was surfing – not counting my husband and oldest daughter, of course. So there were 6-7 of us surfing, and we had 4 instructors – a great ratio, I thought!
The waves at this beach are fun, but not very hard to ride. That's good, because neither of us had ever surfed before. Well, I had tried, 25 years prior, but I'd never been able to stand up.
The instruction started with a few how-tos, then we practiced foot position and popping up right there on the sand. Once they decided we were ready, we grabbed our boards and headed into the surf.
To catch a wave, I would position myself facing the beach, while my instructor watched for a wave. That meant I wasn't constantly having to look backwards to try and know when to start paddling. When a good wave came, he would push the board, tell me to paddle and GO!!! And I did it – I actually stood on the board and rode a wave in. And I did it over and over!
After a while I got tired though, so I decided to rest a bit on the beach. I bought a yummy fruity milky thing from a vendor, and then some of the MASS guys pointed out a monkey nearby! I got to feed it some pineapple. It was so cute.
The only downside to all of this, is that I didn't put enough sunblock on the backs of my legs. I spent the rest of the trip (and the flight home) in a significant amount of sunburn pain. You'd think a Florida girl wouldn't have this kind of trouble, but I did!
Love Indian Cuisine
After working up an appetite surfing, we wanted to try the local Indian restaurant. There are two in Manuel Antonio. We were told that Love Indian Cuisine has been around for some time. Hola India showed up later, isn't as good, and has some shady business practices. I know there are two sides to every story, but we went with the recommended one and our late lunch was amazing.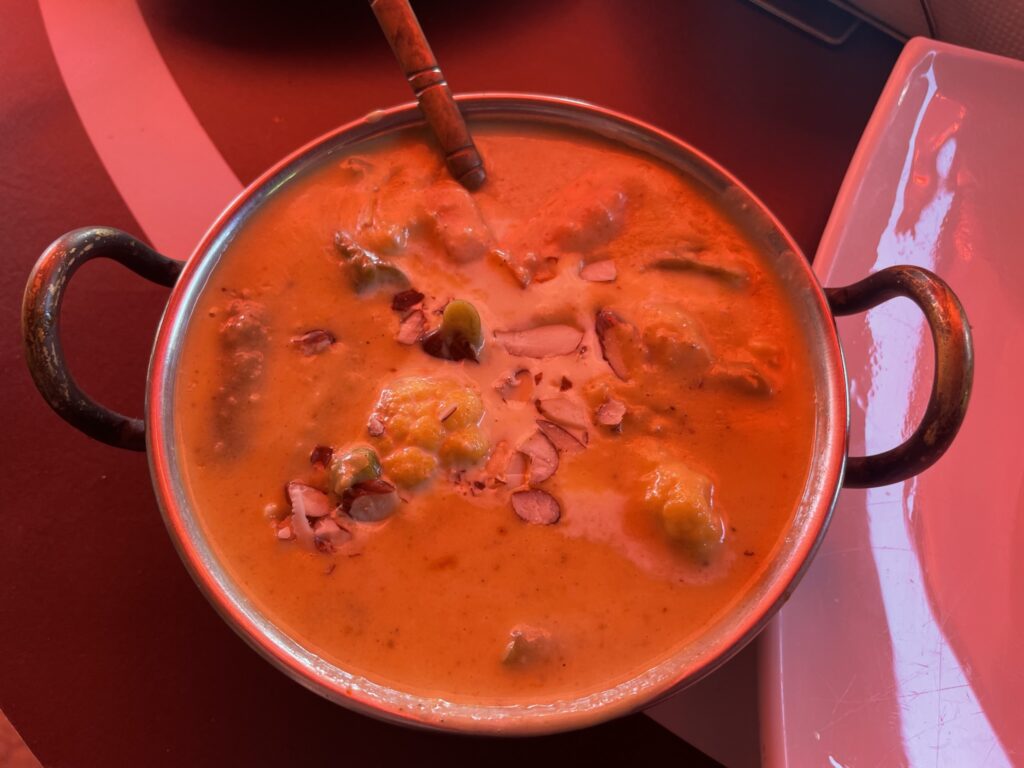 The owner is of Indian descent but is from Canada, and he was really nice. My husband wanted an off-menu dish and he was able to make it for him. The rest of us chose items on the menu and it was all delicious! I've never been to India, but this is at least as authentic as what I've gotten here in the States.
The outside seating was nice. It wasn't that hot out, since we were there in February, but it does have ceiling fans to help keep you cool. This is another restaurant I would easily go back to, and recommend to others.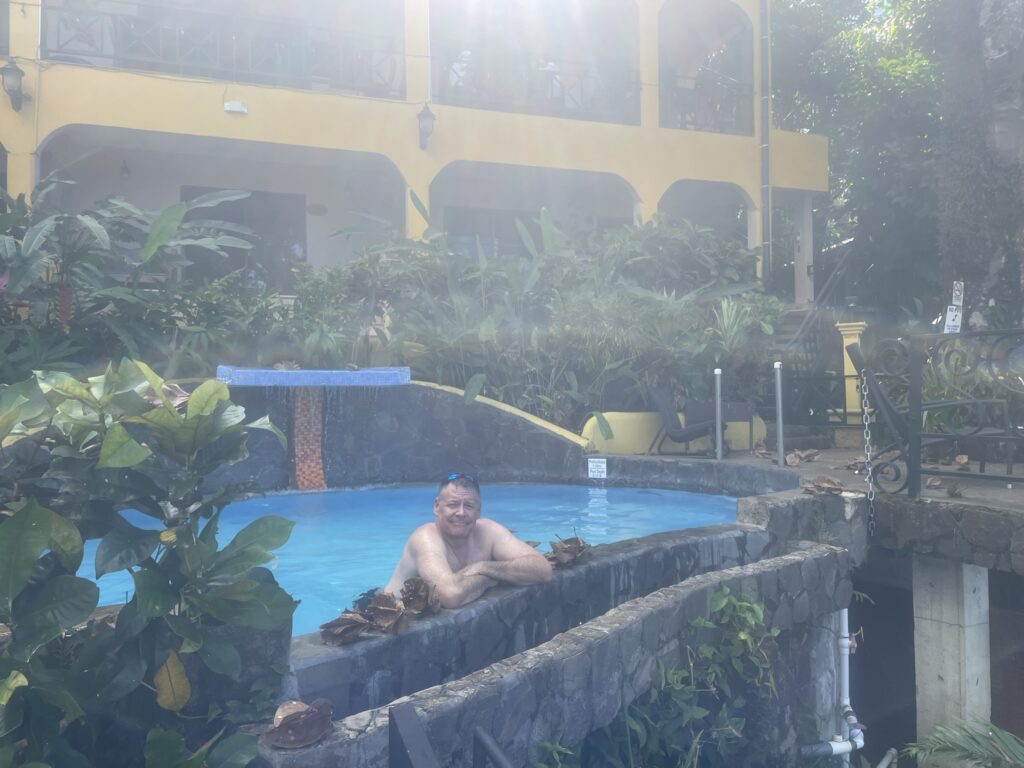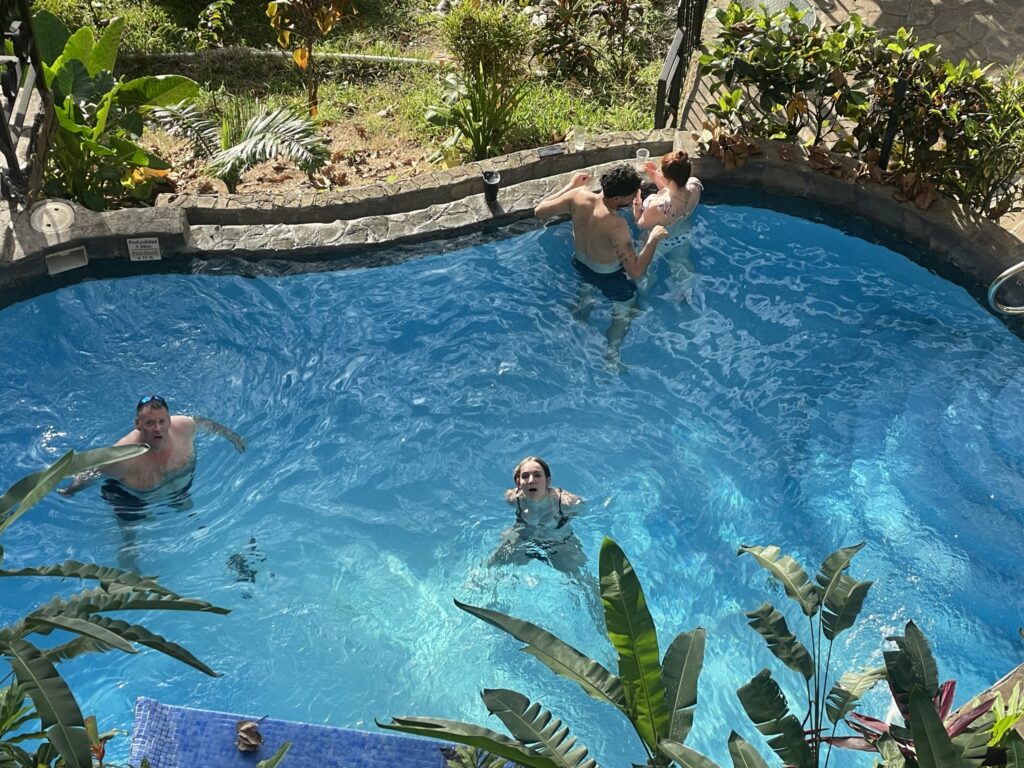 We spent what was left of the afternoon back at the Mango Moon pool, and enjoyed watching another sunset over the Pacific Ocean. Then we headed out for drinks!
El Avion
We HAD to go to El Avion, a restaurant that is partly built inside an old airplane! It's adjacent (and related) to El Wagon, where we'd had pizza the night before. So we headed into the airplane seating and ordered drinks and some nachos to nosh on…yum!
On the menu there's a story about the airplane, and it's a good one. Apparently it's one of three C-123s used undercover by the CIA during the Iran-Contra affair. If you're interested in the complete details, I suggest reading the history page on their website as it's quite fascinating.
That pretty much did us in for the day. We never did get anything in the way of a full dinner that night, since we'd had a late lunch and the nachos as a snack.
Day 5 – Dominical and Uvita
On day 5 we had no planned activities. We had wanted a day to ourselves to explore whatever we felt like at the time. WE decided to eat breakfast in Manuel Antonio, and then to drive south to look around Dominical and Uvita.
Cafe Milagro
Another highly-recommended restaurant was Cafe Milagro. Breakfast there did not disappoint! The service was excellent and the food was good…and of course the coffee was amazing.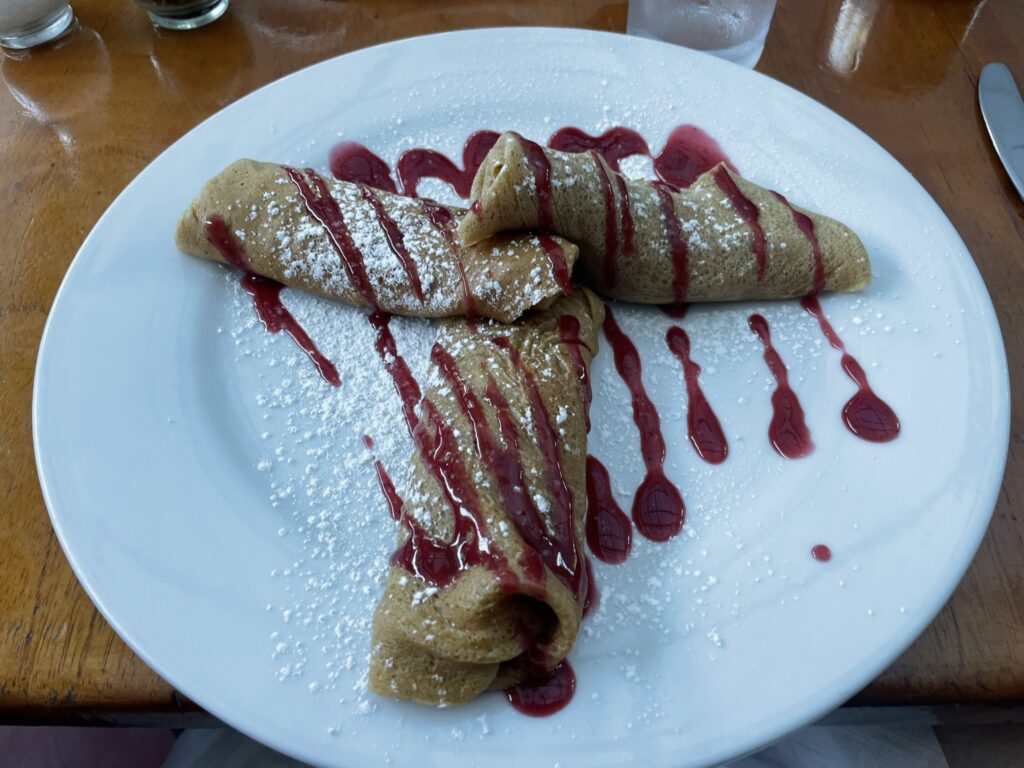 It also has a small gift shop with a few cute items. I bought a couple of trinkets as gifts for friends back home.
Then we hopped back in the car and headed south! Pete got us out of town, but once on the main road (Route 618), we switched so I could drive. I was nervous, despite it being a straight flat road with plenty of visibility. I didn't drive long, but I can say I did it!
Whale's Tail and Vista Ballena
One of the things we really wanted to see was the Whale's Tail near Uvita. It's two beaches that come together in the shape of (you guessed it) a whale's tail. At low tide, you can walk out to it. We'd planned to get there at low tide, but first we wanted to drive up the mountain to try and get a bird's eye view of it.
So Pete threw the SUV into 4-wheel drive mode, and up the mountain we went. We never did find the vista we were looking for, so instead we went to a resort called the Vista Ballena. It translates as "view of the whale" so we figured it would be a good spot. Luckily, the staff was really nice and they let us come in and out to the pool area to look around. It wasn't as good a view as a drone camera would have provided, but we could definitely see the shape. Also, the resort was super cute, so we may try to stay there on a future trip!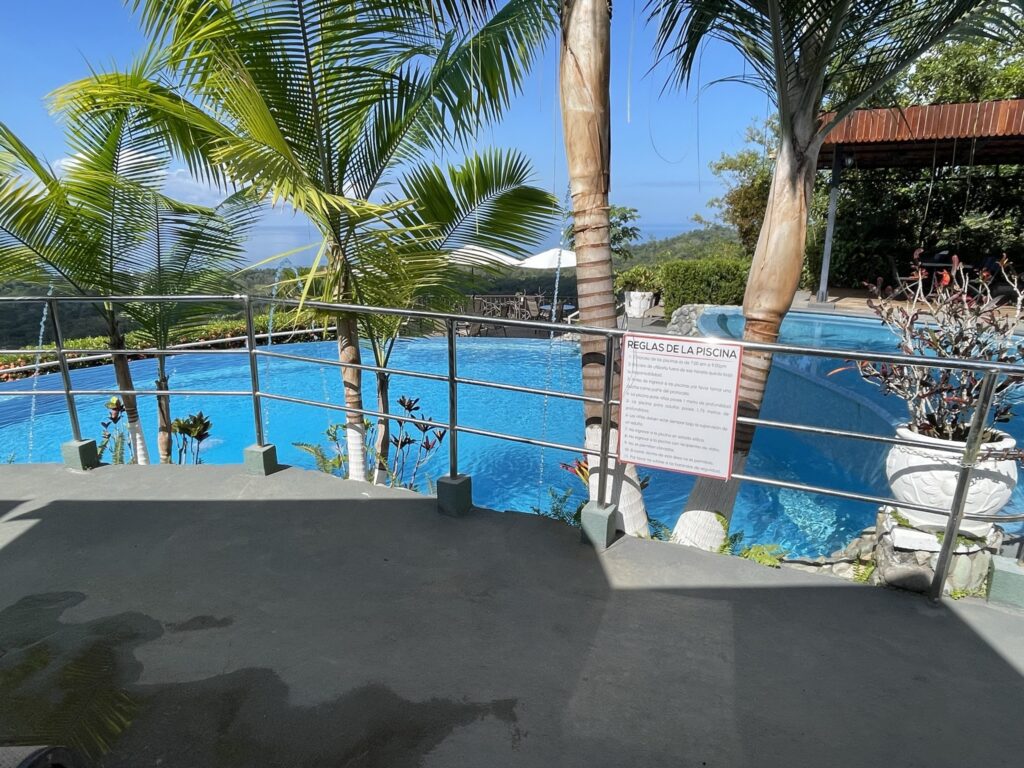 Then we had to drive back DOWN the scary mountain roads in 4WD. Pete was playing songs from his phone, and guess what came on? Free Fallin' by Tom Petty! That hit way too close to home; I had to close my eyes part of the way. Our youngest didn't feel well by the time we got to the bottom, so we decided to skip actually going to the park, and we headed back toward Dominical.
We did stop by a Play Hermosa beach (there are at least three beaches named this in Costa Rica).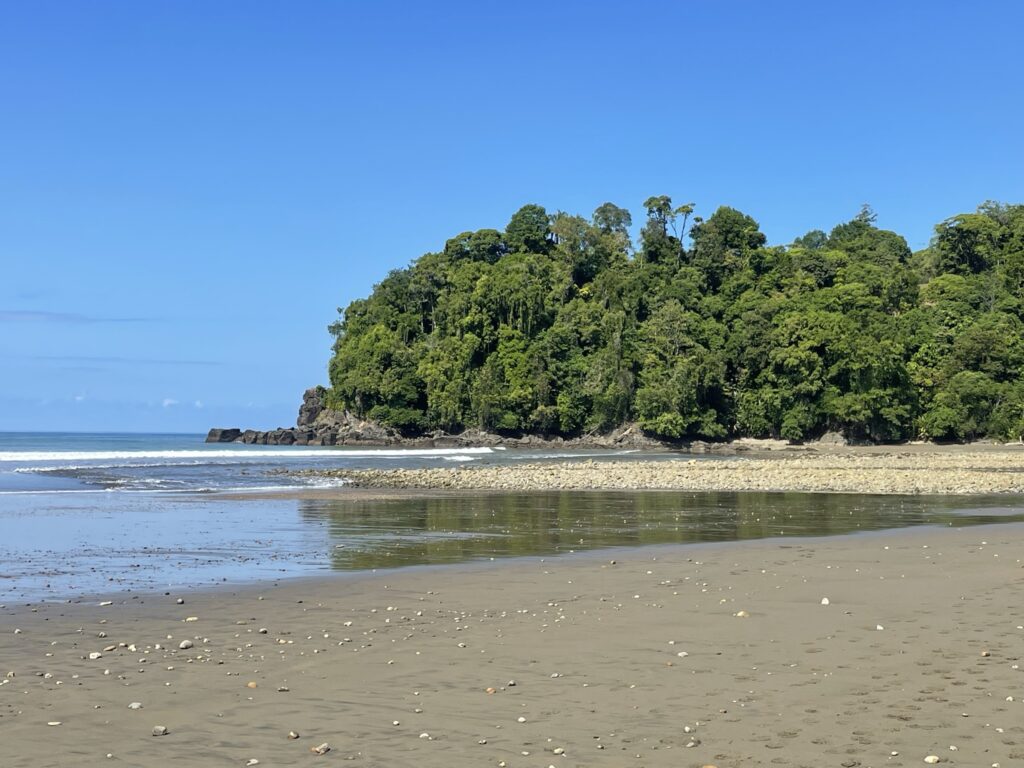 Fuego Brewery
I had wanted to stop at Fuego, a local brewery in Dominical, and I was happy that our daughter felt well enough for us to go. It was kind of like a treehouse, with a walk up sloping ramps to get to the building. Their beer was delicious, and they weren't very crowded. (It was early in the day after all!) We all had some form of refreshment, and I got a t-shirt to take back home.
Toucan
That afternoon, back at Mango Moon, I finally got to see the resident toucan. People had talked about seeing it the day before, and my husband and youngest had seen it, but I hadn't! But they said he visits every afternoon, and perches next to one of the other rooms where he sees his reflection. (Apparently one time he pecked at the glass so hard that he broke it!)
He showed up and I was able to get some great pictures of him perched on the rail of the room's balcony. The room had been vacated that day, and housekeeping was cleaning it, and she let me come in to see him from the inside! What a beautiful bird. But what a dummy for constantly banging on the glass. He pecked so loudly it sounded like a shotgun!
Souvenir Shopping
Before dinner, we did some souvenir shopping in town. I picked up a few things for myself, including a beautiful bowl made of palm wood. And I got some gorgeous earrings for my sister, and some cute sloth earrings for my mom, plus a few other trinkets for friends.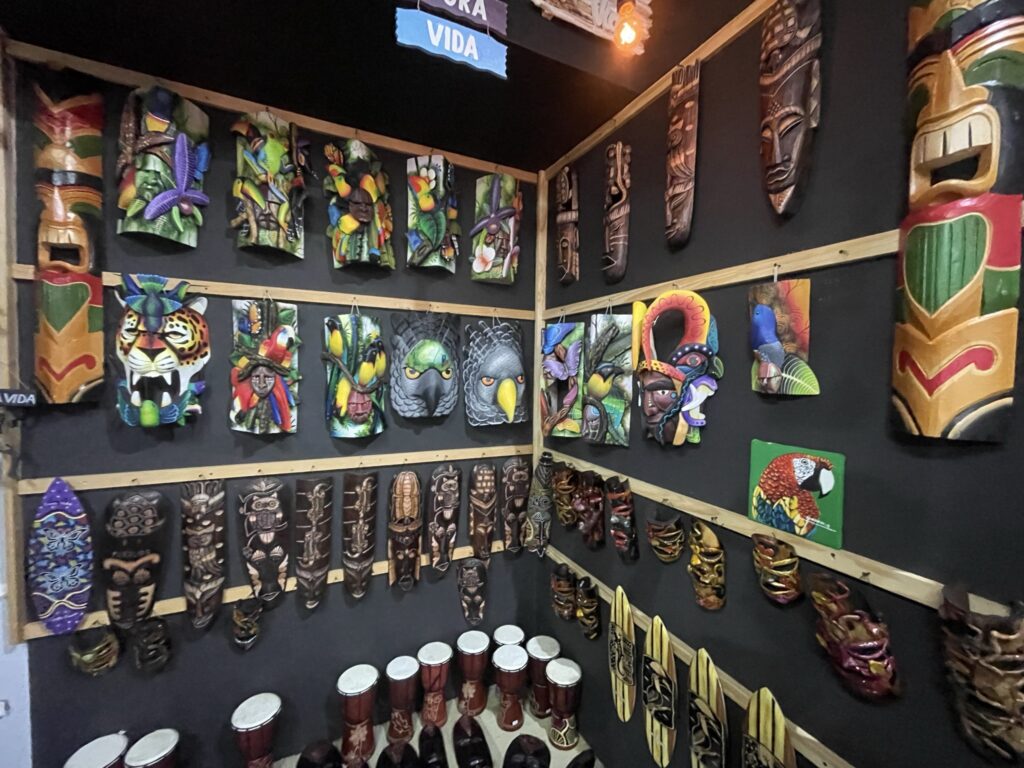 Soda Sanchez
The last place I had wanted to eat was Soda Sanches in nearby Quepos. In Costa Rica, a soda is a small restaurant that serves comida typica – or typical food. I was in! I ordered a cansado – a meal consisting of fresh fish, rice, salad, plantains, beans, and picadillo de chayote. I had to inquire of the waitress what that last thing was called – but it was so good! It turns out chayote is a type of squash – a vegetable I normally loathe, other than zucchini. Well, chayote is now officially my favorite squash.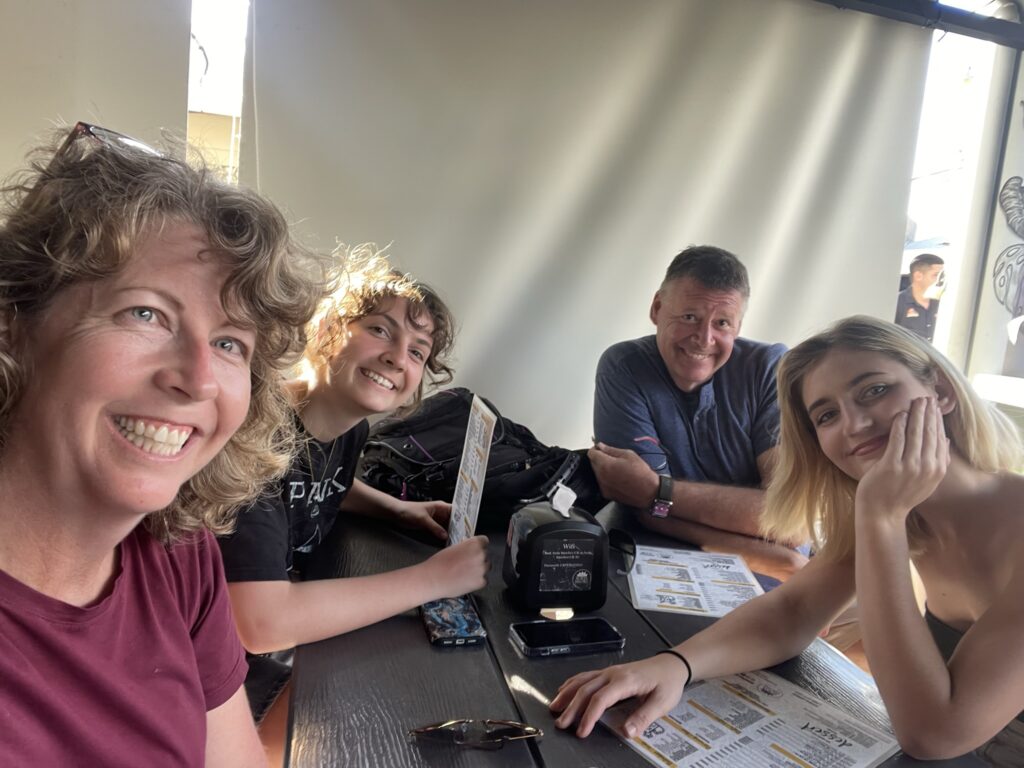 The staff here spoke limited English, so it was a good chance for me to practice my Spanish. I had been learning it by using the app called Duolingo for about 7 months at this point. I think I did pretty well…up until I wanted to ask to take the remainder of my food with me! I didn't know the word for "box"! We all got a good laugh about my face falling and switching over to English for that one word. Fortunately I remembered to fall back on "para llevar", which means "to go". I think la camerera (waitress) would have known what I meant anyway.
Also, the entire rest of my family ordered hamburgers.
Day 6 – Back to Jaco, then San Jose, then Home
Most of Day 6 was traveling. We had to drive the rental SUV back to Jaco, about an hour away. There, we were to meet the owner, Mauricio, at a coffee shop. And our driver, Edgar, was meeting us there to take us back to San Jose.
Before we left, we stopped by the sign near the national park to take some pictures.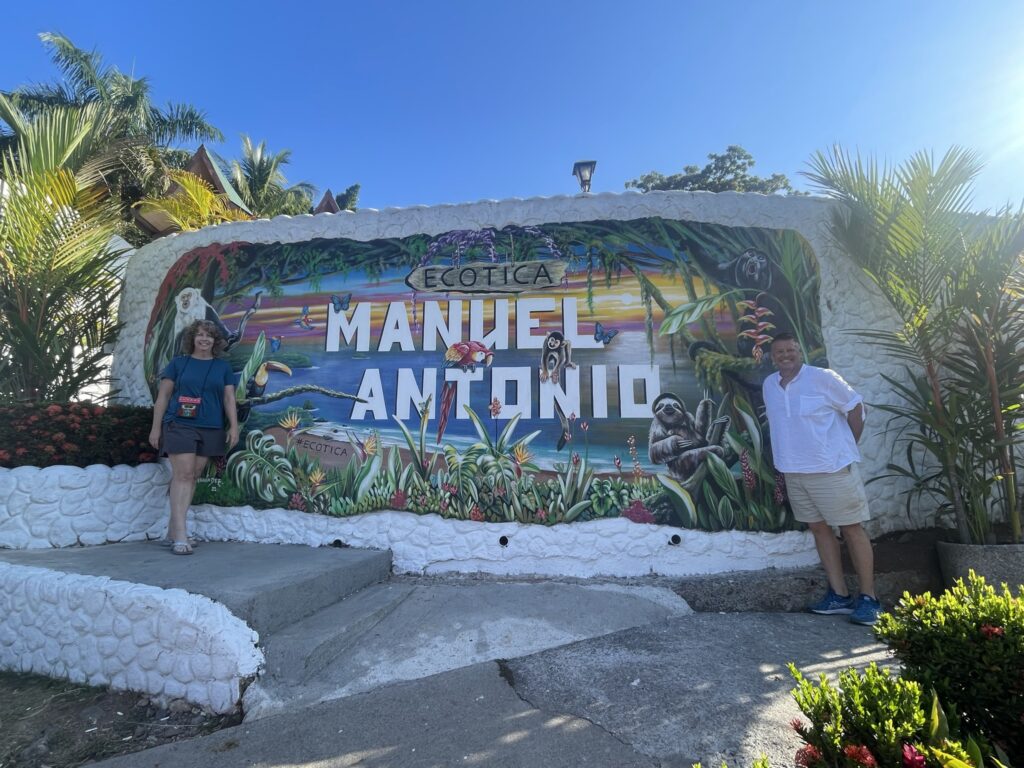 I wanted plenty of time just in case, so of course we got there early. So we drove through downtown Jaco, gassed up the car, then drove back south just a mile or two, to hang out at (another) Playa Hermosa for a few minutes. It's cool because it has black (or gray, really) volcanic sand. I was also able to nab another life bird there, a Gray Martin.
Cafe Bohio
It was about time to meet the people we needed to meet, so we went back to Cafe Bohio, which we'd passed earlier. I carried my camera in with me, because I didn't want it to get stolen from the car while we waited.
We were hungry and wanted to order some food and coffee, and the barista asked me about my camera and what I take photos of. When I told him birds, he took me back out the front door (onto the swaying "bridge" that leads into the coffee shop) and pointed across the street. In the tree, higher up the hill, were these crazy hanging nests and huge black and yellow birds nearby.
I asked what they were called, and he had to say it slowly, twice: oropendola. Specifically, these were Montezuma Oropendola. They are a type of blackbird. I got some great pictures and two more life species, as there was also a Giant Cowbird.
At the cafe, we also met a young woman who had moved to Costa Rica from Tampa. She had given up what sounded like quite the "rat race" in favor of a slower and better life in Costa Rica. She shared with us her testimony, which included a near-death experience while paddleboarding there in the country. She also had the same first and middle name as our older daughter, and with her were two puppies, which our youngest loved, of course!
Once we finished eating, Edgar drove us back to SJO, where we caught our flight to Miami. Clearing customs in Miami is no easy feat; it took probably an hour. (And someone mostly-nicely reminded me that I was back in the States when I said "gracias" to him.) Then we caught the second leg to Orlando, made it to our car, and drove back home.
About that time, I immediately started thinking, "when we can we go back!"